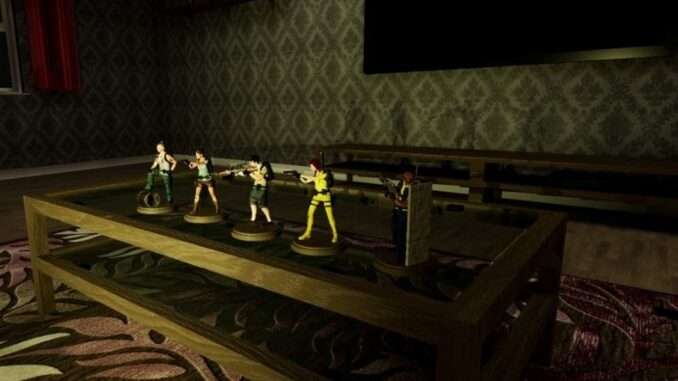 Forget what you've played before: SURV1V3 is a one-of-a-kind realistic zombie survival fps game built just for VR that will put your survival abilities to the test. Survive the apocalypse by playing the gripping story solo or in co-op with your buddies (up to 4 players).
Find maps with useful locations in this quick guide to playing SURV1V3 VR game!
Maps
Nowhere
Click to enlarge…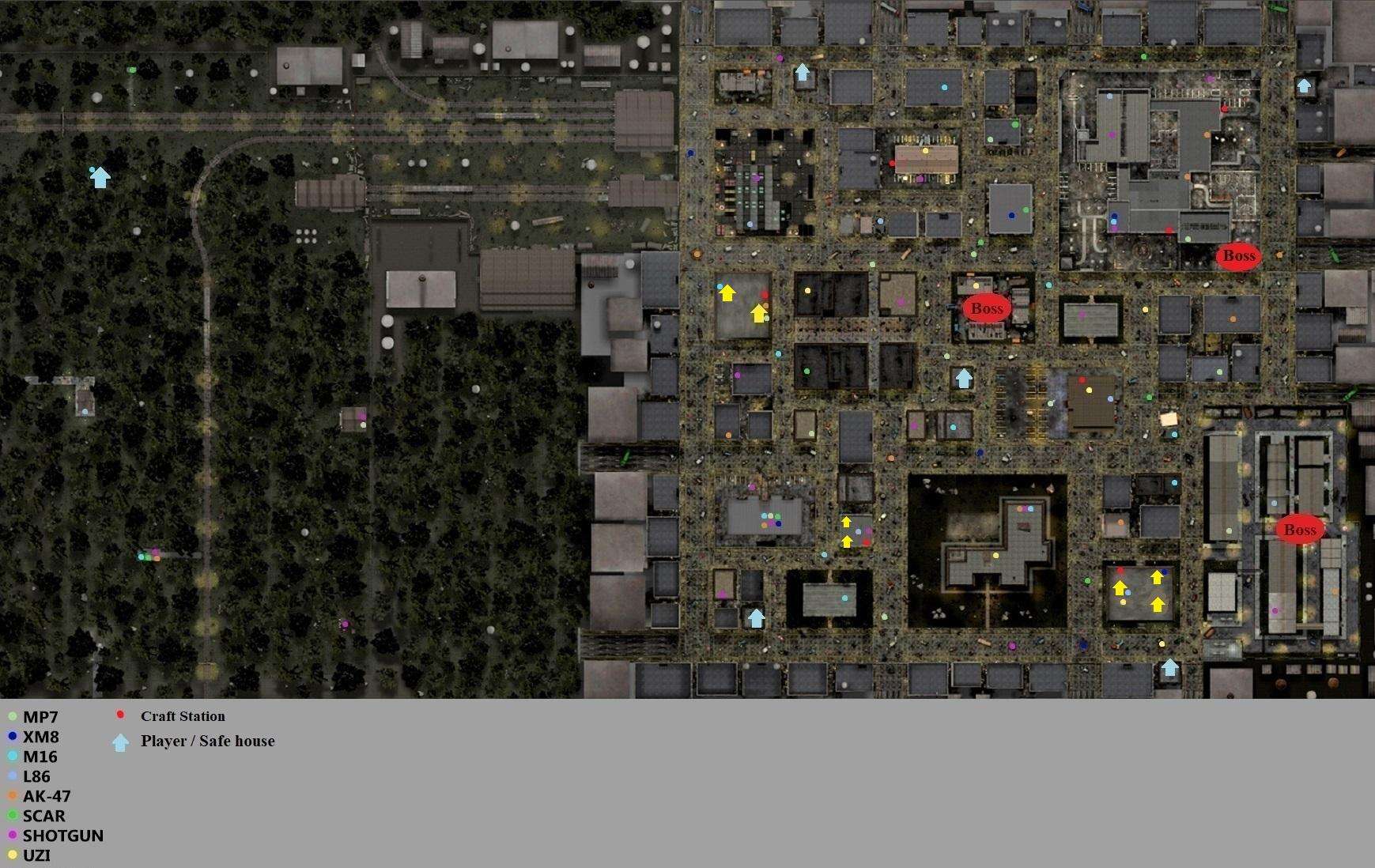 Santa Carla
The safe houses are represented by house shape icons.
The small pink circles are where you'll locate new cloth figures.
The craft machines with the white hammer icon are where you make new things and weapons.
U (with yellow mark house) is the main house for the host player In survival mode.
O (with pink mark house) is the guest house for the first guest join the session.
M is the base camp (for most of the weapons).
B is the diner.
P is the hotel.
W is the grave yard.
Weapons and Ammo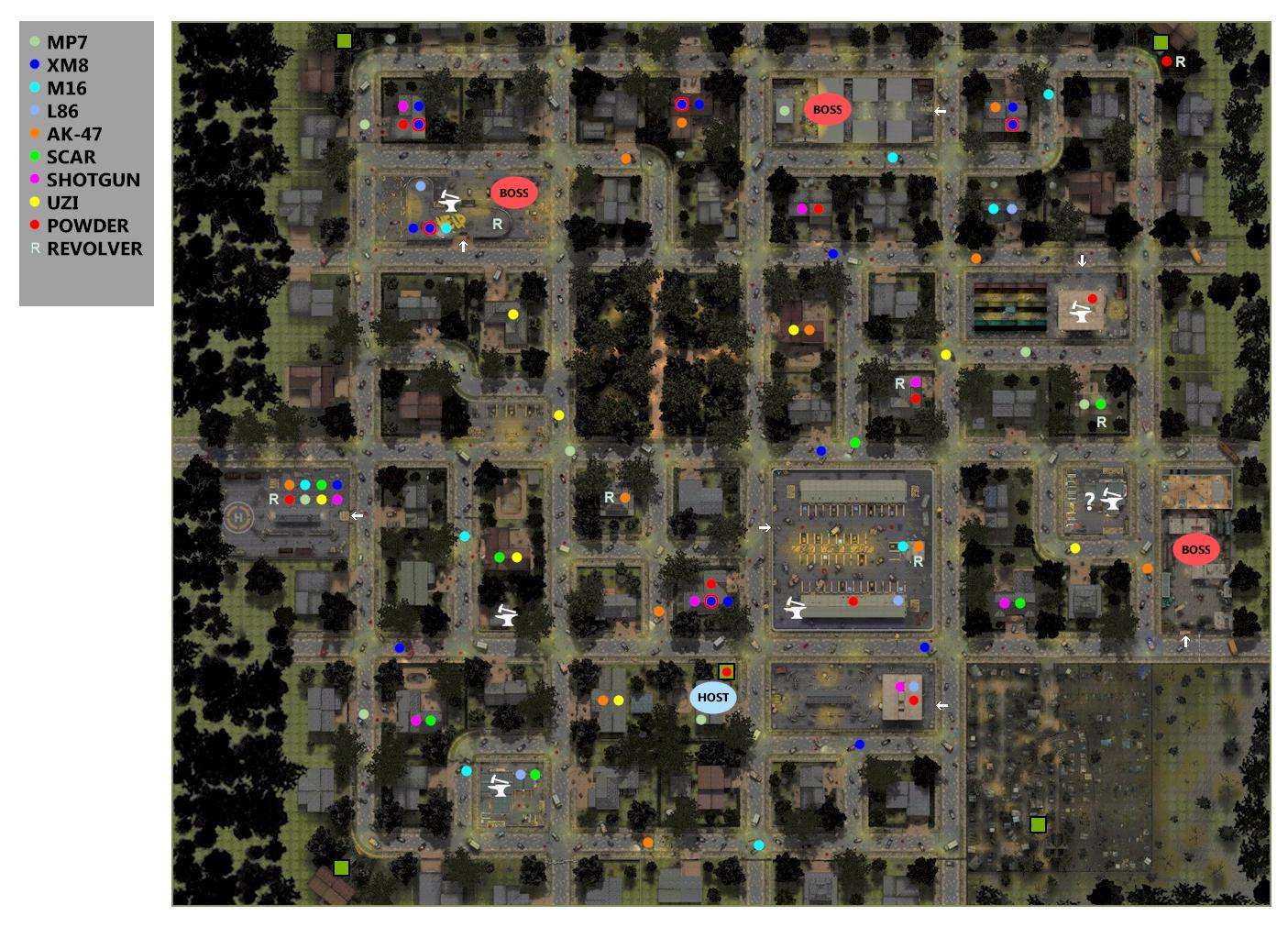 Level-Ups
Level 01: Backpack Slot
Level 02: Paperbag Helmet
Level 03: Green Camo Foliage Weapon Painter
Level 04: Inventory Slot
Level 05: XM8 Extended Magazine
Level 06: Last Dawn (Supreme Death Shovel)
Level 07: Backpack Slot
Level 08: White Digi Camo Clothes Painter
Level 09: Bucket Helmet
Level 10: Inventory Slot
Level 11: Red Digi Camo Weapon Painter
Level 12: M416 Explosive Magazine
Level 13: Backpack Slot
Level 14: Brains Slicer
Level 15: Red Lightning Clothes Painter
Level 16: Inventory Slot
Level 17: Batting Helmet
Level 18: Frosty Ice Weapon Painter
Level 19: Backpack Slot
Level 20: MP7A1 Extended Magazine
Level 21: Word of God
Level 22: Inventory Slot
Level 23: Yellow Camo Foliage Clothes Painter
Level 24: Football Helmet
Level 25: Backpack Slot
Level 26: Fire Burning Weapon Painter
Level 27: Scar Explosive Magazine
Level 28: Inventory Slot
Level 29: Matrix Code Clothes Painter
Level 30: The Pacemaker
Level 31: Backpack Slot
Level 32: Plague Mask
Level 33: White Camo Foliage Weapon Painter
Level 34: Inventory Slot
Level 35: M416 Extended Magazine
Level 36: Grim Reaper
Level 37: Backpack Slot
Level 38: Sand Digi Camo Clothes Painter
Level 39: Army Helmet
Level 40: Inventory Slot
Level 41: White Digi Camo Weapon Painter
Level 42: Beretta Explosive Magazine
Level 43: Backpack Slot
Level 44: Damned Soul
Level 45: Deep Ocean Clothes Painter
Level 46: Inventory Slot
Level 47: Jester Hat
Level 48: Lava Stone Weapon Painter
Level 49: Backpack Slot
Level 50: Scar Extended Magazine
Level 51: Dark Flake
Level 52: Inventory Slot
Level 53: Green Camo Foliage Clothes Painter
Level 54: Bandana
Level 55: Backpack Slot
Level 56: Sweet Candy Weapon Painter
Level 57: Desert Eagle Explosive Magazine
Level 58: Inventory Slot
Level 59: Old Bones Clothes Painter
Level 60: First Lie