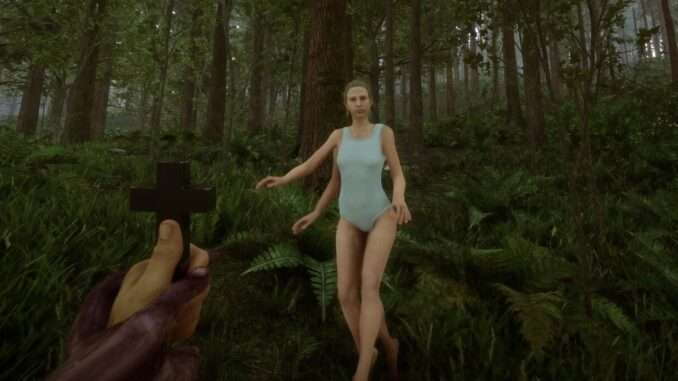 We enjoy The Forest game and cheats. Do you share our passion for it? Welcome to our Sons Of The Forest guide if the answer is yes. All of the cheat codes are contained in this brief tutorial.
Without the aid of modifications, you can change, add, and delete game content using console commands.
How to Enable Console
Type "cheatstick" (without quotes) in game, press F1 and it will open.
Console Commands (Cheats)
How to Spawn Item / Character
spawnitem stick 10 – spawns 10 sticks in front of you.
addcharacter cannibal 3 – spawns 3 random cannibals in front of you.
spawnworldobject tree – spawns a small sapling tree in front of you.
All Commands
| | |
| --- | --- |
| Command | Arguments |
| addAllBookPages | string arg |
| addAllItems | object o |
| addAllStoryItems | object o |
| additem | string nameOrId |
| additemswithtag | string tag |
| addmemory | string amount |
| addVirginia | string param |
| aiAngerLevel | string param |
| aiAnimSpeed | string param |
| aiArmorLevel | string param |
| aiArmorTier | string param |
| aiDisable | string onoff |
| aiDodgeTest | string onoff |
| aiDummy | string onoff |
| aiForceStrafe | string onoff |
| aiGhostPlayer | string onoff |
| aiGodMode | string onoff |
| aiJumpDebug | string onoff |
| aiKnockdownDisable | string onoff |
| aiMemoryAdjust | string param |
| aiPause | string onoff |
| aiPoolStats | string onoff |
| aiRadar | string paramString |
| aiRunWorldEvent | string param |
| aiShowAnims | string paramString |
| aiShowDebug | string param |
| aiShowDebugCamera | string onoff |
| aiShowEventMemory | string paramString |
| aiShowHealth | string paramString |
| aiShowNavGraph | string fullParam |
| aiShowPaths | string onoff |
| aiShowPlayerInfluences | string paramString |
| aiShowStats | string paramString |
| aiShowSurvivalStats | string paramString |
| aiShowThoughts | string paramString |
| aiStatAdjust | string param |
| aiStructureLog | string onoff |
| aiTestSleep | string param |
| aiThought | string param |
| aiThoughtNoCooldown | string onoff |
| aiVailStats | string onoff |
| aiVerboseLog | string onoff |
| aiVillageClosest | string onoff |
| aiWorldEventStats | string onoff |
| aiWorldStats | string onoff |
| aiZoneStats | string onoff |
| allowAsync | string onoff |
| ammohack | string onoff |
| animalLimitMult | string param |
| animalsEnabled | string onoff |
| anisoEnabled | string arg |
| anisoMinMax | string arg |
| applyDefaultMaterials | string onOff |
| areaShadow | string onoff |
| astar | string onoff |
| audio2dTest | string arg |
| audioDebug | string onOff |
| audioDescription | string audioEventPattern |
| audioParameter | string audioParamPattern |
| audioPlayEvent | string audioEventPattern |
| billboardEnabled | string args |
| billboardIgnoreChanges | string arg |
| blockPlayerFinalDeath | string arg |
| breakObjects | string args |
| buildermode | string onoff |
| buildhack | string onoff |
| cameraDlss | string onOff |
| cameraFov | string fov |
| capsulemode | string onoff |
| caveLight | string param |
| characterLods | string onoff |
| checkAttachedEntities | string onoff |
| checkExitMenu | string onoff |
| checkFrozenEntities | string onoff |
| clear | object o |
| clearallsettings | object arg |
| clearAudioParameters | string audioParamPattern |
| clearBushRadius | string param |
| clearmidactionflag | object obj |
| cloudEnable | string onOff |
| cloudFactor | string coverAmount |
| cloudShadowsEnable | string onOff |
| combatTestStart | string param |
| count | string name |
| countGoWithlayer | string layerName |
| counttag | string name |
| createLight | string args |
| creepyVillage | string param |
| crouchToggle | string toggle |
| damageDebug | string onoff |
| deathCount | string value |
| debugPlayerHitLog | string onoff |
| debugPlayerMelee | string param |
| demoMode | string onoff |
| destroy | string name |
| destroyRagdoll | string onoff |
| destroyWildcard | string wildcard |
| diagRenderers | string param |
| diggingClear | string value |
| disablecomponent | string name |
| disableGameObjectTester | string args |
| disablego | string name |
| disableGoWildcard | string wildcard |
| disableScene | string name |
| disconnectPlayer | string arg |
| disconnectPlayers | string arg |
| dismemberRadius | string param |
| dumplobbyinfo | object arg |
| duplicateObject | string args |
| dynamicResolutionCycleTest | string arg |
| dynamicResolutionOverride | string arg |
| dynamicResolutionTarget | string arg |
| enableCheats | string toggle |
| enableCollisionBasedKillBox | string onoff |
| enablecomponent | string name |
| enablego | string name |
| enableScene | string name |
| enableStructureGhosts | string onoff |
| energyhack | string onoff |
| exposureSetSpeed | string args |
| filteraudio | string filter |
| findObjectsWithShader | string shaderName |
| firstLookForce | string onoff |
| follow | string arg |
| followStop | string arg |
| footstepDebug | string param |
| forceCloud | string profile |
| forceCloudProfile | string profile |
| forcePlayerExpression | string name |
| forcerain | string arg |
| forceRemoveTrees | string countStr |
| freecamera | string onoff |
| gameOverDelayTime | string arg |
| gamePadDeadzone | string value |
| gamePadXSensitivity | string value |
| gamePadYSensitivity | string value |
| gccollect | object o |
| getGameMode | string arg |
| getlayerculldistance | string args |
| godmode | string onoff |
| goto | string arg |
| gotoCoords | string arg |
| gotoforce | string arg |
| gototag | string arg |
| gravity | string value |
| greebledRocksCollision | string onoff |
| heallocalplayer | string amountString |
| help | object o |
| hideworldposfor | string componentName |
| hitlocalplayer | string damageStr |
| igniteRadius | string param |
| inspectgo | string name |
| instantRespawnHere | string param |
| invertLook | string param |
| invisible | string onoff |
| joinSteamLobby | string arg |
| jumpTimeOfDay | string value |
| kickPlayers | string arg |
| killlocalplayer | object o |
| killRadius | string param |
| knockdownLocalPlayer | string param |
| listActiveEntities | string val |
| listDeathMarkers | string args |
| listGoWithlayer | string layerName |
| listitems | object o |
| listitemswithtags | object o |
| listObjects | string arg |
| load | string slotIndexArg |
| loadDebugConsoleMod | string filename |
| loadMacros | string param |
| loadplayer | string arg |
| loadScene | string levelArg |
| loadSceneSingle | string levelArg |
| lockTimeOfDay | string value |
| lodDebugBillboards | string onOff |
| lodDebugMaterials | string onOff |
| lodDebugRanges | string lodType |
| lodForce2DDistance | string arg |
| lodForce3DDistance | string arg |
| logging | string onoff |
| loghack | string onoff |
| logShowErrors | string onOff |
| logShowInfo | string onOff |
| logShowNone | string onOff |
| logShowWarnings | string onOff |
| logTextures | string intervalArg |
| mipmapStreaming | string onOff |
| mipmapStreamingBudget | string value |
| mipmapStreamingDiscard | string onOff |
| mouseXSensitivity | string value |
| mouseYSensitivity | string value |
| navGraphForceUpdate | string param |
| netAnimator | string onoff |
| netSkinnedBones | string onoff |
| netSpawnPlayer | string onoff |
| openmacrosfolder | string _ |
| physicsUpdateTime | string onoff |
| playDeathCutscene | string args |
| playDeathMarker | string args |
| playDeathMarkerIndex | string args |
| playerAnimParams | string arg |
| playerDebugCamera | string onoff |
| playerInterruptKeys | string arg |
| playernetanimator | string onoff |
| playerVisibility | string onoff |
| playGameOver | object o |
| postProcessingComponent | string arg |
| profilersample | string onoff |
| profilersnapshot | object arg |
| qualityTexture | string args |
| radioDebug | string arg |
| refillContainers | string args |
| refreshEntities | string val |
| regenhealth | string arg |
| removeAllItems | object o |
| removeAllStoryItems | object o |
| removeDead | string param |
| removeitem | string nameOrId |
| removeLiving | string param |
| removeShader | string shaderName |
| renderSpheres | string onoff |
| replaceShader | string shaderName |
| reporterrorsnow | string message |
| reportlogsnow | string message |
| reportwarningsnow | string message |
| resetInputAxes | – |
| resetSettings | string args |
| revivelocalplayer | object o |
| robbyCarry | string param |
| robbyInCutscenes | string arg |
| rumbleTest | string args |
| save | string slotIndexArg |
| saveplayer | string arg |
| season | string arg |
| sendMessageTo | string arg |
| setCurrentDay | string num |
| setDifficultyMode | string arg |
| setExitedEndGame | string param |
| setGameMode | string arg |
| setGameSetupSetting | string args |
| setGameTimeSpeed | string speedStr |
| setinventorypercent | string arg |
| setlayerculldistance | string args |
| setLookRotation | string rotation |
| setOpeningCrash | string arg |
| setPlayerRace | string inputString |
| setProperty | string args |
| setSetting | string args |
| setSpeakerMode | string mode |
| setstat | string arg |
| setTimeOfDay | string value |
| setWindIntensity | string val |
| setWorldObjectStateRange | string args |
| showActiveLights | string param |
| showButterflyInfo | string onOff |
| showCollisionObjectNames | string param |
| showFps | string onoff |
| showHud | string onoff |
| showInWorldUi | string onoff |
| showMeshMaterialNames | string param |
| showMeshObjectNames | string param |
| showMeshTriangleCounts | string param |
| showObjectLocation | string objectName |
| showProjectileTrails | string onOff |
| showStimuli | string param |
| showTriggerCollision | string param |
| showui | string onoff |
| showWorldObjects | string param |
| showworldposfor | string componentName |
| slapchop | string onoff |
| spawnedObjectStats | string onoff |
| spawnFallingTree | string arg |
| spawnitem | string itemIdentifier |
| spawnpickup | string nameOrId |
| spawnRenderSpheres | string onoff |
| speedyrun | string onoff |
| sprintToggle | string toggle |
| superJump | string onoff |
| survival | string onoff |
| targetFrameRate | string rate |
| terrainParallax | string args |
| terrainPixelError | string val |
| terrainRender | string onoff |
| terrainRenderSimple | string onoff |
| terrainTess | string args |
| terrainTessDist | string args |
| testeventmask | object arg |
| timeOfDayConnectionDebug | string arg |
| timeOfDayDebug | string arg |
| timescale | string scaleStr |
| toggleFPSDisplay | string val |
| togglego | string name |
| toggleOcclusionCulling | string val |
| toggleOverlay | object o |
| togglePlayerStats | object o |
| toggleVSync | string val |
| toggleWorkScheduler | string param |
| trailer3 | object o |
| treeCutSimulateBolt | string arg |
| treeFallContactInfo | string args |
| treeOcclusionBonus | string arg |
| treeRadius | string param |
| treesCutAll | string value |
| unloadScene | string levelArg |
| unloadUnusedAssets | object o |
| unlockSeason | string arg |
| useRigidBodyRotation | string onoff |
| veganmode | string onoff |
| virginiaGiveItem | int itemId |
| virginiaInCutscenes | string arg |
| virginiaSentiment | string param |
| virginiaVisit | string param |
| vrFps | string onoff |
| workscheduler | string trycatch |
| worldGroupId | string args |
| wsscaling | string onoff |
Item ID's
Note: You can edit those IDs in the following file:
\AppData\LocalLow\Endnight\SonsOfTheForest\Saves\X\MultiplayerClient\X\PlayerInventorySaveData.json

| | |
| --- | --- |
| Item Names | IDs |
| 3dPrintedArrow | 618 |
| 3dPrintedArrowHeads | 559 |
| 3dPrintedFlask | 426 |
| 3dPrintedFlowerPot | 561 |
| 3dPrintedGrapplingHook | 560 |
| 3dPrintedKnife | 427 |
| 3dPrintedSled | 428 |
| 3dPrintedUnderwaterMask | 429 |
| 3dPrinterResin | 390 |
| 9mmAmmo | 362 |
| AirCanister | 469 |
| Airgun | 357 |
| AirgunScope | 470 |
| AlbumCover | 467 |
| AloeVera | 451 |
| AloeVeraSeed | 596 |
| ArrowleafBalsamroot | 454 |
| ArrowleafSeed | 597 |
| Backpack | 402 |
| Batteries | 527 |
| BatteryCharger | 458 |
| BatteryPack | 460 |
| Binoculars | 341 |
| Blackberries | 595 |
| BlackberrySeed | 598 |
| Blueberries | 445 |
| BlueberrySeed | 599 |
| BlueprintBirdHouse | 581 |
| BlueprintBoneChair | 579 |
| BlueprintBoneChandelier | 588 |
| BlueprintBook | 552 |
| BlueprintDryingRack | 530 |
| BlueprintFishTrap | 582 |
| BlueprintHangingSkullLight | 625 |
| BlueprintMannequin | 584 |
| BlueprintPlanterFloor | 587 |
| BlueprintPlanterWall | 586 |
| BlueprintRockPath | 622 |
| BlueprintScarecrow | 585 |
| BlueprintShelf | 621 |
| BlueprintSmallLogCabin | 591 |
| BlueprintStickBed | 532 |
| BlueprintStickChair | 531 |
| BlueprintStickLadder | 580 |
| BlueprintStorageBones | 608 |
| BlueprintStorageBox | 583 |
| BlueprintStorageLogs | 609 |
| BlueprintStorageRocks | 607 |
| BlueprintStorageSticks | 610 |
| BlueprintTable | 620 |
| BlueprintTrapBoneMaker | 549 |
| BlueprintTrapFlySwatter | 550 |
| BlueprintTrapSmallAnimalCatcher | 551 |
| BlueprintWallShelf | 623 |
| BlueprintWallTorch | 624 |
| BlueprintWeaponRack | 533 |
| BlueTShirt | 488 |
| Bone | 405 |
| BoneArmour | 494 |
| BuckshotAmmo | 364 |
| BunkerPamphlet | 509 |
| C4Brick | 420 |
| CannedFood | 434 |
| CanOpener | 432 |
| CatFood | 464 |
| CerealBox | 425 |
| Chicory | 465 |
| ChicorySeed | 605 |
| CircuitBoard | 416 |
| ClimbingAxe | 478 |
| Cloth | 415 |
| Coins | 502 |
| CombatKnife | 380 |
| CompactPistol | 355 |
| CompactPistolRail | 376 |
| ContactSpringTrigger | 514 |
| ContactTrigger | 511 |
| CookingPot | 517 |
| CraftedArrow | 507 |
| CraftedBow | 443 |
| CraftedClub | 477 |
| CraftedSpear | 474 |
| CreepyArmour | 593 |
| CreepySkin | 592 |
| Cross | 468 |
| Crossbow | 365 |
| CrossbowAmmoBolt | 368 |
| CrossbowQuiverMod | 384 |
| DeerHide | 472 |
| DeerHideArmour | 519 |
| DevilsClub | 449 |
| DevilsClubSeed | 600 |
| DuctTape | 419 |
| EmailPrintoutAstrologyA | 539 |
| EmailPrintoutAstrologyB | 540 |
| EmailPrintoutAstrologyC | 541 |
| EmailPrintoutBalletA | 545 |
| EmailPrintoutCaveLighting | 521 |
| EmailPrintoutGolfA | 534 |
| EmailPrintoutGolfB | 535 |
| EmailPrintoutGolfC | 536 |
| EmailPrintoutGolfD | 537 |
| EmailPrintoutGovernmentA | 614 |
| EmailPrintoutGovernmentB | 615 |
| EmailPrintoutGovernmentC | 616 |
| EmailPrintoutMrPuffyFinancial | 528 |
| EmailPrintoutMrPuffyWill | 526 |
| EmailPrintoutPaintingA | 538 |
| EmailPrintoutPoliticianA | 542 |
| EmailPrintoutPoliticianB | 543 |
| EmailPrintoutPoliticianC | 544 |
| EmailPrintoutSqueakyShoesA | 546 |
| EmailPrintoutSqueakyShoesB | 547 |
| EmailPrintoutSqueakyShoesC | 548 |
| EmergencyPack | 483 |
| EnergyBar | 441 |
| EnergyDrink | 439 |
| EnergyMix | 461 |
| EnergyMixPlus | 462 |
| Feather | 479 |
| FireAxe | 431 |
| Fireweed | 453 |
| FireweedSeed | 601 |
| Fish | 436 |
| Flare | 440 |
| Flashlight | 471 |
| FlashlightMod | 378 |
| Flask | 475 |
| Flippers | 463 |
| FlyAmanitaMushroom | 400 |
| FoodCubeBrain | 569 |
| FoodCubeSteak | 570 |
| FoodCubeSteakAndBacon | 571 |
| FoodTray | 497 |
| FoodTrayFilled | 512 |
| GoldenArmour | 572 |
| GoldMask | 435 |
| GolfBall | 524 |
| GolfPutter | 525 |
| GPSLocator | 529 |
| GPSTracker | 412 |
| GrabBag | 351 |
| GRABSLaserPointer | 498 |
| Grenade | 381 |
| GrenadeAmmo | 382 |
| GuaranaBerries | 594 |
| GuaranaSeed | 602 |
| Guitar | 340 |
| HalfLog | 408 |
| HalfLogPlank | 577 |
| HangGlider | 626 |
| HealthMix | 455 |
| HealthMixPlus | 456 |
| HolovilleNoticeA | 562 |
| HolovilleNoticeB | 563 |
| HolovilleNoticeC | 564 |
| HolovilleNoticeD | 565 |
| Hoodie | 490 |
| Horsetail | 450 |
| HorsetailSeed | 603 |
| HydnumRepandumMushroom | 399 |
| Katana | 367 |
| KeyCardGuest | 567 |
| KeyCardMaintenance | 566 |
| KeyCardVIP | 568 |
| KingOysterMushroom | 398 |
| LaserMeasureTool | 505 |
| LaserSightMod | 375 |
| Leaf | 484 |
| LeafArmour | 473 |
| LeatherJacket | 493 |
| Log_Legacy | 78 |
| LogPlank | 395 |
| LootPouch | 508 |
| Machete2 | 359 |
| Meat | 433 |
| ModernAxe | 356 |
| Molotov | 388 |
| MolotovAmmo | 389 |
| Money | 496 |
| MrePack | 438 |
| MrPufftonTableCard | 627 |
| MrsPufftonTableCard | 628 |
| NewspaperCutout | 612 |
| NewspaperCutoutOutbid | 613 |
| NightVisionGoggles | 354 |
| NovelA | 423 |
| NovelB | 424 |
| NovelC | 574 |
| NovelD | 575 |
| NumbersPrintout | 611 |
| OldJacket | 491 |
| Oyster | 466 |
| PaperTarget | 518 |
| Pills | 437 |
| PistolAmmoBox | 370 |
| PistolSuppressor | 374 |
| PlasmaLighter | 413 |
| PuffyJacket | 500 |
| QuarterLog | 406 |
| QuarterLogPlank | 576 |
| Radio | 590 |
| RamenNoodles | 421 |
| Rebreather | 444 |
| RedMask | 391 |
| RepairTool | 422 |
| Revolver | 386 |
| Rifle | 361 |
| RifleAmmo | 387 |
| RifleRailMod | 383 |
| Rock | 393 |
| Rope | 403 |
| RopeGun | 522 |
| Salmonberries | 447 |
| SalmonberrySeed | 604 |
| ScopeMod | 377 |
| SeveredArm | 480 |
| SeveredHead | 482 |
| SeveredLeg | 481 |
| ShiitakeMushroom | 397 |
| ShotgunAmmoBoxBuckshot | 371 |
| ShotgunAmmoBoxSlug | 372 |
| ShotgunPumpAction | 358 |
| ShotgunRail | 346 |
| Shovel | 485 |
| SilkPyjamas | 487 |
| Skull | 430 |
| SleepingBag | 573 |
| Slingshot | 459 |
| SlugAmmo | 363 |
| SmallRock | 476 |
| Snowberries | 448 |
| Spring | 513 |
| Stick | 392 |
| StockPricePrintout | 617 |
| Structure Element | 520 |
| StunGun | 353 |
| StunGunAmmo | 369 |
| StunGunAmmoBox | 457 |
| TacticalAxe | 379 |
| TacticalBoots | 501 |
| TacticalBow | 360 |
| TacticalBowAmmo | 373 |
| TacticalChainsaw | 394 |
| TacticalJacket | 495 |
| TacticalPants | 489 |
| Tarp | 504 |
| TaserStick | 396 |
| TechArmour | 554 |
| TechMesh | 553 |
| ThreeQuarterLog | 409 |
| ThreeQuarterLogPlank | 578 |
| TimeBomb | 417 |
| Torch | 503 |
| TrackerDart | 366 |
| TurtleEgg | 401 |
| TurtleShell | 506 |
| TutorialBook | 589 |
| TutorialPageBasicBuilding | 515 |
| TutorialPageTarpTent | 516 |
| Tuxedo | 492 |
| Twinberries | 446 |
| VirginiaCamoSuit | 558 |
| VirginiaDress | 556 |
| VirginiaLeatherSuit | 557 |
| VirginiaSwimSuit | 619 |
| VirginiaTrackSuit | 555 |
| VodkaBottle | 414 |
| WalkieTalkie | 486 |
| Wetsuit | 499 |
| Wire | 418 |
| Wristwatch | 410 |
| Yarro | 452 |
| YarroSeed | 606 |
| ZiplineRope | 523 |