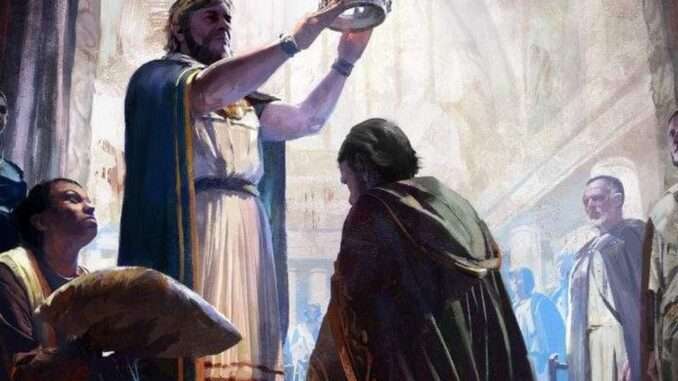 Hard work: if it is not for you, there are always cheat codes and console commands. We will show you some cheats for the Old World that will make the game easier and / or more fun!
How to Enable Console
Hit <shift> <tilda> to bring up the console.
Console Commands
All console commands can be printed to the Unity console using the command:
Remember to save your progress before using the cheat codes just in case!
| | | |
| --- | --- | --- |
| Name | Command | Category |
| doeventstory | doeventstory EVENTSTORY_TYPE | Events |
| testEvents | testEvents (true/false) | Events |
| eventstorymaxprio | eventstorymaxprio EVENTSTORY_TYPE | Events |
| addmoney | addmoney int (playerIndex) | Goods, Yields, Money |
| addyield | addyield YIELD_TYPE int (playerIndex) | Goods, Yields, Money |
| | | |
| addunit | addunit UNIT_TYPE tileID playerIndex (BARBARIAN_TYPE) | Units |
| addgeneral | addgeneral tileID characterID | Units |
| removetopunit | removetopunit tileID | Units |
| removeunits | removeunit tileID | Units |
| addimprovement | addimprovement IMPROVEMENT_TYPE tileID (playerIndex) (RELIGION_TYPE) (buildTurns) | Improvements |
| removeimprovement | removeimprovement tileID | Improvements |
| finishimprovement | finishimprovement tileID | Improvements |
| addvegetation | addvegetation VEGETATION_TYPE (tileID) | Vegetation |
| removevegetation | removevegetation (tileID) | Vegetation |
| makenation | makenation playerIndex NATION_TYPE | Tiles |
| addcity | addcity tileID playerIndex (FAMILY_TYPE) | Tiles |
| setcityowner | setcityowner tileID playerIndex | Tiles |
| setTileName | setTileName tileIndex tileNameUnderscoreForSpace | Tiles |
| revealmap | revealmap playerID | Visibility |
| fullrevealmap | fullrevealmap | Visibility |
| setTribeAlliance | setTribeAlliance TRIBE_TYPE playerID | Diplomacy |
| setTribeHostile | setTribeHostile TRIBE_TYPE playerID | Diplomacy |
| setTeamHostile | setTeamHostile teamID teamID | Diplomacy |
| setTribeTruce | setTribeTruce TRIBE_TYPE playerID | Diplomacy |
| setTeamTruce | setTeamTruce teamID teamID | Diplomacy |
| setTribePeace | setTribePeace TRIBE_TYPE playerID | Diplomacy |
| setTeamPeace | setTeamPeace teamID teamID | Diplomacy |
| setTribeAlly | setBarbarianAlly BARBARIAN_TYPE, playerID | Diplomacy |
| setTeamAlliance | setTeamAlliance teamID, teamID | Diplomacy |
| addgoal | addgoal GOAL_TYPE (playerID) | Goals |
| removegoal | removegoal currentGoalID (playerID) | Goals |
| finishgoal | finishgoal GOAL_TYPE (fail) | Goals |
| newcharacter | newcharacter (playerID) (FAMILY_TYPE) (age) (fillValue) | Characters |
| makedead | makedead characterID | Characters |
| addtrait | addtrait TRAIT_TYPE (characterID) | Characters |
| removetrait | removetrait TRAIT_TYPE (characterID) | Characters |
| setrating | setrating RATING_TYPE rating (characterID) | Characters |
| setexperience | setexperience experience (characterID) | Characters |
| setcognomen | setcognomen COGNOMEN_TYPE (characterID) | Characters |
| setnation | setnation NATION_TYPE (characterID) | Characters |
| setfamily | setfamily FAMILY_TYPE (characterID) | Characters |
| setCourtier | setCourtier COURTIER_TYPE (characterID) | Characters |
| addrelationship | addrelationship RELATIONSHIP_TYPE character1ID character2ID | Characters |
| removerelationship | removerelationship RELATIONSHIP_TYPE character1ID character2ID | Characters |
| addCharacterMemory | addCharacterMemory MEMORYCHARACTER_TYPE characterID | Characters |
| setReligion | setReligion RELIGION_TYPE characterId | Characters |
| addFamilyMemory | addFamilyMemory MEMORYFAMILY_TYPE FAMILY_TYPE | Family |
| setFamilyHead | setFamilyHead FAMILY_TYPE characterID | Family |
| addPlayerMemory | addPlayerMemory MEMORYPLAYER_TYPE playerMemoryOwnerID playerMemoryTargetIDDefaultsToZero | Player |
| addTeamMemory | addTeamMemory MEMORYPLAYER_TYPE playerMemoryOwner teamTarget | Player |
| setPlayerLeader | setPlayerLeader playerID characterID | Player |
| addTribeMemory | addTribeMemory MEMORYTRIBE_TYPE playerMemoryOwner TRIBE_TYPE | Tribe |
| setTribeLeader | setTribeLeader TRIBE_TYPE characterID | Tribe |
| addReligionMemory | addReligionMemory MEMORYRELIGION_TYPE playerMemoryOwner RELIGION_TYPE | Religion |
| setReligionHead | setReligionHead RELIGION_TYPE characterId | Religion |
| turnlock | turnlock | Game |
| autoplay | autoplay NUM_TURNS | Game |
| setTeamVictory | setTeamVictory VICTORY_TYPE teamID | Game |
| setachievement | setachievement ACHIEVEMENT_TYPE playerID | Game |
| reloadmods | reloadmods | Mod |
| dumpconsolecommands | dumpconsolecommands | Dump |
| dumphotkeyscommands | dumphotkeyscommands | Dump |
| dumpprofilerdata | dumpprofilerdata filename [saves out 5 seconds of profiler data to a file, which can then be sent to QA for performance analysis]  | Dump |
| memoryprofilersnapshot | memoryprofilersnapshot filename | Dump |