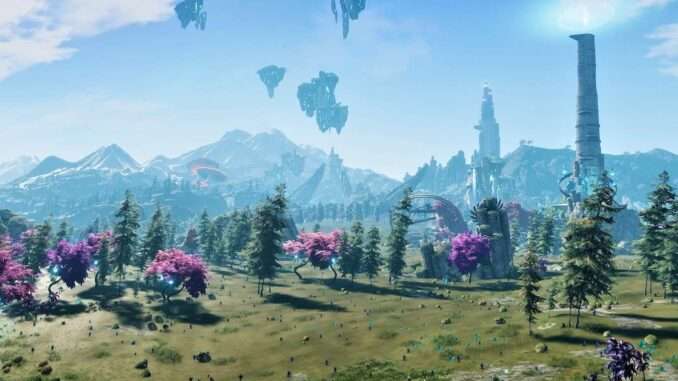 If you want Edge of Eternity to be easier and want to use cheats then you have come to the right guide. We will help you activate cheats and get the necessary items and / or abilities in the game.
How to Enable Console
First open the console by using the [=] button. Then enter any command and press Enter key. After that close the console window by using the [=] button again.
Note: Console requires to launch the game with –console argument.
Console Commands
godmode – God Mode!
killthem – Kill all enemies.
win – Skip any battle.
completeobj – Complete the current objective of the currently tracked quest.
setspeed [num] – Sets the speed (default speed should be 10).
setstate [statename] [num] – Can help you out with bugged quests, and more.
teleport [x] [y] [z] – Teleport you.
tp 1 – Unstuck.
weather [num] – Change the weather.
unlockscene [1-12] – Unlocks the Inn Scenes corresponding to your progression.
itemlevel [actorid] [level] – Adds EXP to equipped weapons (for example – Selene: itemlevel 2 desiredlevel).
removeparty [num] – Removes NPC from your team (for example – Nuggets: removeparty 7).
photomode – Removes UI.
additem [ID] [count] – Spawns a specific item.
Item IDs
Note: Unfortunately, some IDs may have changed with the new version of the game.
Weapons
276 – Soulblade
277 – Slumbering Soulblade
278 – Winged Soulblade
279 – Pulsating Soulblade
284 – Humming Knife
285 – Edge
286 – Roaring Blade
287 – Inferno
292 – Shamanic Staff
293 – Prophet Staff
294 – WoodSpine Staff
295 – WorldSpine Staff
296 – Animist Staff
297 – Silent Soulstaff
298 – Singing Soulstaff
299 – Winged Soulstaff
300 – Chorus Soulstaff
301 – Magnifying Technostaff
302 – Prototype TechnoStaff
303 – Quantum TechnoStaff
304 – Catalyst TechnoStaff
305 – Sickle of Atonement
306 – Sickle of Contrition
307 – Winged Sickle
308 – Sickle of Absolution
309 – Dynamo Scythe
310 – Engine Scythe
311 – Harvester
312 – Hell Cleaver
403 – Stone Cutter
404 – Stone Blade
405 – Crystal Blade
406 – Gem Cutter
407 – Basalt Blade
414 – Prototype Coilgun
415 – Electro-Mag Pistol
416 – Helical Handgun
417 – Gauss Handgun
422 – Wyrmscale
423 – Drakescale
424 – Wyrmfang
425 – Drakefang
426 – Silverhorn Staff
427 – Silverfang Staff
428 – Silvertail Staff
429 – Silverwing Staff
430 – Bent wing Scythe
431 – Nightwing Reaper
432 – Nocturnal Harvest
433 – Pale Blue Horse
434 – Fire Breath
435 – Wyrm's Breath
436 – Dragon's Breath
437 – Divine Breath
438 – Dragonforged Armature
439 – Firesky Obulus
440 – Wyrmsteel Wings
441 – Heavenswrath Discus
Recipes
89 – Soulblade
90 – Slumbering Soulblade
91 – Winged Soulblade
92 – Pulsating Soulblade
93 – Humming Knife
94 – Edge
95 – Roaring Blade
96 – Inferno
97 – Silent Soulstaff
98 – Singing Soulstaff
99 – Winged Soulstaff
100 – Chorus Soulstaff
101 – Magnifying Technostaff
102 – Prototype TechnoStaff
103 – Quantum TechnoStaff
104 – Catalyst TechnoStaff
105 – Shamanic Staff
106 – Prophet Staff
107 – WoodSpine Staff
108 – WorldSpine Staff
109 – Animist Staff
110 – Sickle of Atonement
111 – Sickle of Contrition
112 – Winged Sickle
113 – Sickle of Absolution
114 – Dynamo Scythe
115 – Engine Scythe
116 – Harvester
117 – Hell Cleaver
123 – Stone Cutter
124 – Stone Blade
125 – Crystal Blade
126 – Gem Cutter
127 – Basalt Blade
128 – Prototype Coilgun
129 – Electro-Mag Pistol
130 – Helical Handgun
131 – Gauss Handgun
132 – Wyrmscale
133 – Drakescale
134 – Wyrmfang
135 – Drakefang
136 – Silverhorn Staff
137 – Silverfang Staff
138 – Silvertail Staff
139 – Silverwing Staff
140 – Bent wing Scythe
141 – Nightwing Reaper
142 – Nocturnal Harvest
143 – Pale Blue Horse
144 – Fire Breath
145 – Wyrm's Breath
146 – Dragon's Breath
147 – Divine Breath
148 – Dragonforged Armature
149 – Firesky Obulus
150 – Wyrmsteel Wings
151 – Heavenswrath Discus
Collectables
30 – Celestium
32 – Fulgurite(Crystal sharp)
37 – Itching Wineberry
41 – Frost Cabbage
44 – Thestrorn
125 – Variscitium
129 – Tantalium Grey
132 – Ardens-Lazuli
133 – Homonculium
134 – Persphinxia
135 – Horsenettle
139 – Toothed-Labiacea
139 – Toothed-Labiacea
140 – Singing Orchid
141 – Dark Seed
142 – Worldroot
142 – Worldroot
144 – Coachman's Friend
274 – Ambroisie(rare)
Armor
646 – Anarch Corset
647 – Anarch Gloves
645 – Anarch Headband
649 – Anarch Leggings
648 – Anarch Shoes
349 – Ancient Arms
351 – Ancient Bases
663 – Ancient Coupola
348 – Ancient Cranium
350 – Ancient Legs
588 – Arkadian Armor
591 – Arkadian Boots
372 – Arkadian Disks
589 – Arkadian Gauntlets
590 – Arkadian Greaves
370 – Arkadian Heels
587 – Arkadian Helmet
552 – Astryan Chestguard
612 – Astryan Gloves
611 – Astryan Robe
58 – Cloth Armband
17 – Cloth Hood
60 – Cloth Pant
57 – Cloth Robe
568 – Cobbler's Shoes
631 – Consecrated Gloves
630 – Consecrated Gown
629 – Consecrated Laurel
633 – Consecrated Skirt
632 – Consecrates Shoes
618 – Crystal Visor
170 – CrystalSilk Dress
368 – Crystalsilk Straps
653 – Dashing Trousers
61 – Dead magus robe
169 – Deadgrip Gloves
162 – Destitute Noble Vest
627 – Diadem of Focus
661 – Dignity Straps
658 – Doomgrasp
655 – Dreadwalkers
656 – Dusk Straps
364 – Eastfalan Jacket
367 – Eastfalian Boots
365 – Eastfalian Gloves
363 – Eastfalian Hood
366 – Eastfalian Leggings
99 – Exiled armor
270 – Flash Speed Boots
166 – Foppish Waistcoat
671 – Godmachine Code
660 – Godmachine Disk
672 – Godmachine Processor
598 – Goldbelt Leggings
580 – Hawk's Coif
651 – Heaven in Hell
609 – Heaven's Pillar
650 – Hell in Heaven
610 – Hero's Crown
641 – Hood of Oblivion
635 – Ilvana's Danse
634 – Ilvana's Sight
624 – Inertia Gloves
622 – Inertia Headband
626 – Inertia Pants
623 – Inertia Robe
625 – Inertia Shoes
362 – Karandu Boots
360 – Karandu Gloves
358 – Karandu Headband
361 – Karandu Pant
359 – Karandu Robe
669 – Klaysha Feets
668 – Klaysha Hands
666 – Klaysha Helmet
670 – Klaysha Legs
667 – Klaysha Torso
657 – Last Chance Jacket
52 – Leather Armband
53 – Leather Boots
237 – Leather Corset
64 – Leather Hood
54 – Leather Pant
51 – Leather Tunic
59 – Light Boots
659 – Light Step Heels
619 – Maiden's Skirt
636 – Mystical Hood
637 – Mystical Sash
639 – Mystical Shoes
640 – Mystical Waistcloth
638 – Mystical Wristbands
354 – Nomad Armor
357 – Nomad Boots
355 – Nomad Gloves
353 – Nomad Helm
356 – Nomad Leggings
599 – Obsidian Armor
601 – Obsidian Boots
600 – Obsidian Gauntlets
602 – Obsidian Greaves
603 – Obsidian Helmet
161 – Orokko Leather Harbais
160 – Orokko Leather Strap
553 – Padded Armor
560 – Padded Boots
561 – Padded Greaves
562 – Padded Helmet
559 – Padded Vambraces
167 – Polished Rotary Disk
158 – Polyester Harness
165 – Polyester Straps
113 – Priestress Armband
114 – Priestress Boots
241 – Reinforced Harness
240 – Reinforced Straps
654 – Right Hand Man's Hand
168 – Rubber Heels
231 – Runic Gloves
230 – Runic Headband
233 – Runic Leggings
232 – Runic Robe
234 – Runic Shoes
164 – Rusty Heels
163 – Rusty Rotary Disk
14 – Scholar Armband
15 – Scholar Boots
16 – Scholar Hood
13 – Scholar Pant
12 – Scholar Robe
239 – ShadowSilk Boots
235 – Shadowsilk Gloves
238 – Shadowsilk leggings
613 – Sorcerer's Diadem
615 – Sorcerer's Gloves
614 – Sorcerer's Jacket
616 – Sorcerers Boots
617 – Sorcerers Trousers
145 – SpiderSilk Gloves
147 – SpiderSilk Headband
148 – SpiderSilk Leggings
146 – SpiderSilk Robe
149 – SpiderSilk Shoes
597 – Spiritcage
229 – Steel Boots
227 – Steel Cuirass
225 – Steel Gauntlets
244 – Steel Heels
226 – Steel Helmet
228 – Steel Leggings
243 – Steel Rotary Disk
273 – Steelsilk belt
156 – Studded Leather Armor
159 – Studded Leather Boots
155 – Studded Leather Coif
154 – Studded Leather Gauntlets
157 – Studded Leather Leggings
236 – Stylish Hairpin
652 – Stylish Vest
242 – Superior Waistcoat
272 – The Admirals Corset
171 – The Anchors
581 – The Cancer Walk
620 – The Hopes of the Many
662 – The Living Coffin
558 – The Long Walk
644 – The Scourge of the Earth
643 – The Scourge of the Sea
569 – The Second Skin
621 – The Touch of Grace
628 – The Warm Danse
271 – Third Eye Headband
642 – Thousand Words Sash
115 – Umbra Worshiper Robe
369 – Vagrant's coat
371 – Vagrant's Leggings
665 – Vanati Head
664 – Vanati Torso
6 – Wild Leather Armband
7 – Wild Leather Boots
11 – Wild Leather Hood
8 – Wild Leather Pant
5 – Wild Leather Tunic
111 – Wilding Armband
112 – Wilding Boots